Blog
12/05/22

LBO maybe at Islington Mill 2010 on the string of gigs that damn near killed me, with my good friend Huw Wahl (who built the bike machine with Dave Birchall)
10/05/22

Very happy to have worked with Castles in Space on this 12" by Twilight Sequence (Matthew J. Saunders). Listened to this in woods at dusk on a bluetooth speaker, made me a big fan of his music, talented bloke.

Been struggling to get back into painting after having been doing a lot of digital stuff in recent years. This one is Molotow acrylics on watercolour paper, think I prefer the background which was done with a brush. The foreground was done with paint markers.

23/02/22

Recent drawing, with this one, I wanted to improve the depiction of dramatic light. Prints available via Etsy.

18/12/20


This was a commission to paint an Addon T3 speaker.
15/11/20

Since 2016 I've been trying to learn Japanese, using drawings to help remember the insane amount of stuff I need to get into my head.

12/11/20

Have been commissioned to do a custom paint job on a bluetooth speaker,
this is a preparatory painting for it.
Get in touch via the contact form if you want something customised!

06/11/20

Both Skull Disco compilations are now available from Bandcamp:

17/10/20

The artist Mazano created this version of a sticker design I did in Blender: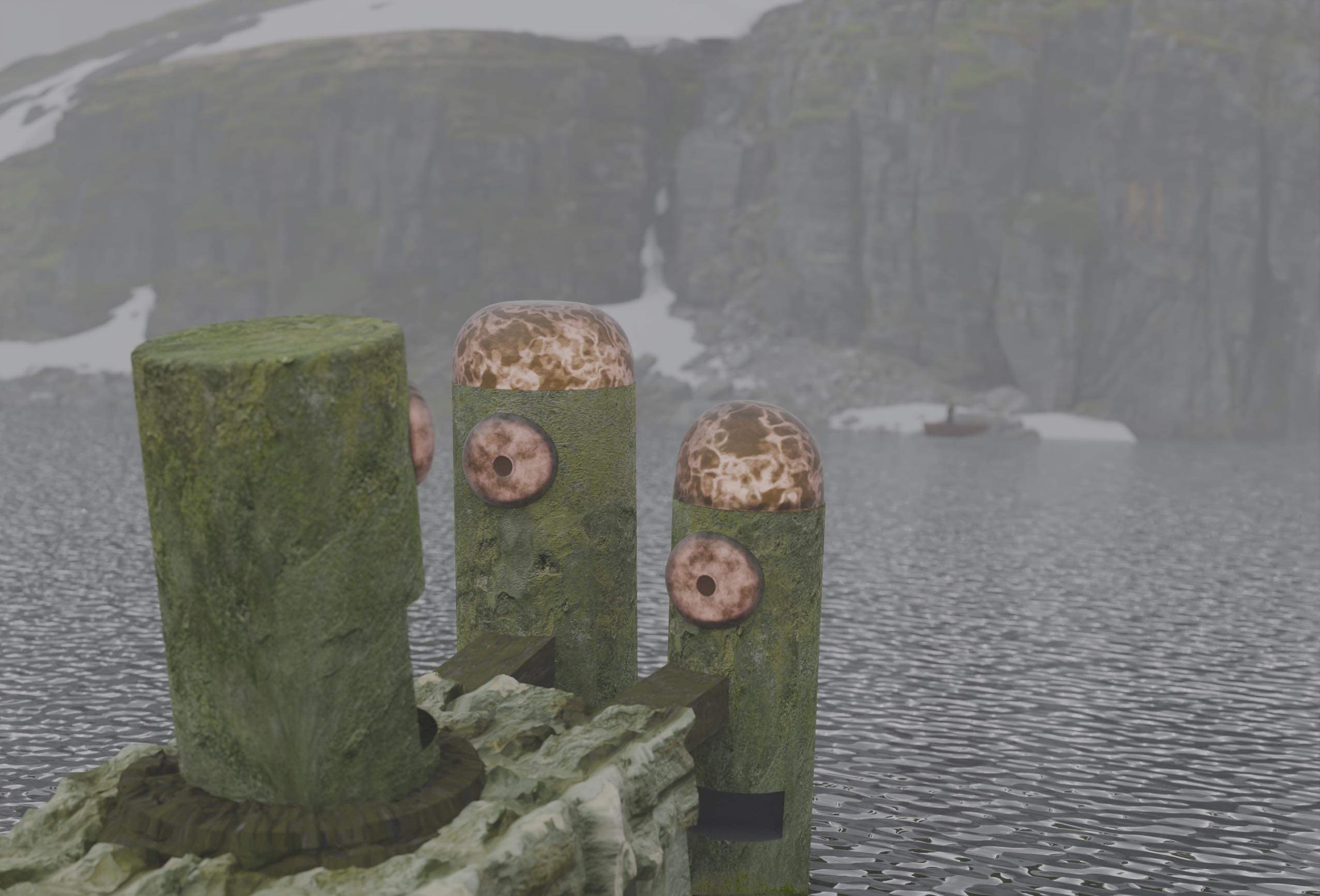 14/10/2020
Painted wooden kidney for:
An exhibition featuring over 100 artists for the Renal Transplant Fund as part of QE Hospital Birmingham Charity. Curated by @paulmonsters
Tunes Of Negation
Like The Stars Forever And Ever
Second release for Shackleton's band. Boomkat

09/10/20

Art for Nick Edwards, top bloke, pal & musician, check his mega catalogue both as Ekoplekz, eMMplekz and Nick Edwards.
08/10/20

Video collaboration, here's the blurb:


The first single, 'Your Message is Peace' is accompanied by a VR video based on the artwork for the album by
Tunes Of Negation, 'Like The Stars Forever And Ever'.

The vinyl release features a gatefold sleeve with art by Zeke Clough. The outer cover represents an organic forest of intertwined forms, a disorientating environment unpopulated by humanity.

The inner gatefold represents a contrasting space of bright organic forms and soothing water, based on the print, 'The Amida Falls in the Far Reaches of the Kisokaidō Road' by Hokusai.

The video is a 3D creation of these two distinct zones as seen from the viewpoint of someone navigating these realms. Their exploration reflecting the music in an emotional journey from disorientated confusion to the peaceful sanctuary of the waterfall.

The video is a collaboration between three artists:

Commonolithic, who draws from his digital art practice using 3D scanning and VR development in spatialising Zeke's art.

McGilchrist who calls on her multimedia art practice using VR and video installation.

Zeke Clough, who provided art and animation.







03/10/20
Bit of psychedelic whimsy.

26/09/20
Lots going on at the moment, here are a few recent sketchbook drawings:

09/10/19
Tattoo design commission.
The design was adapted and executed by the brilliant tattoo artist Bruno at https://www.missioninksf.com/bruno.html
Four new prints available from my Etsy shop.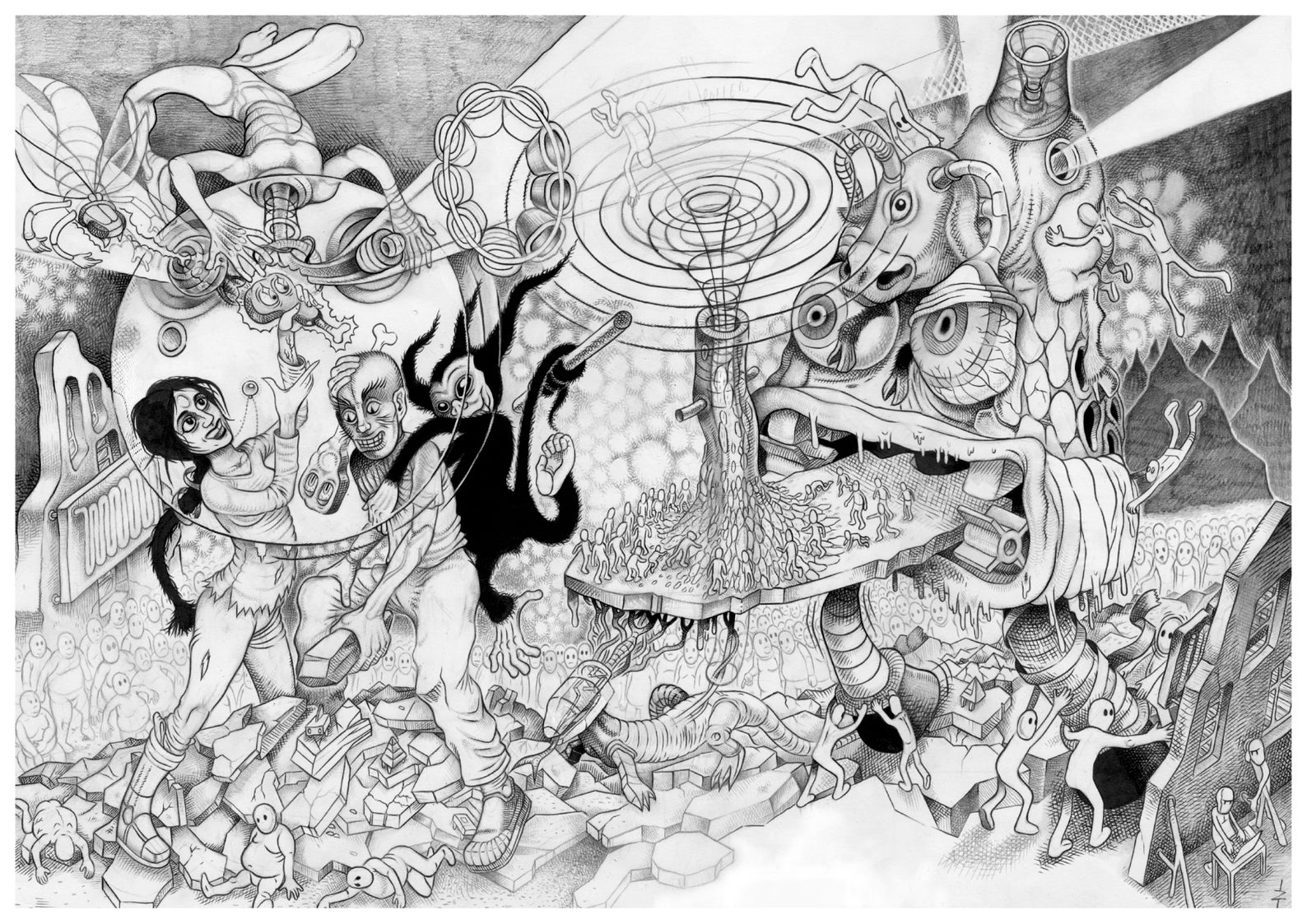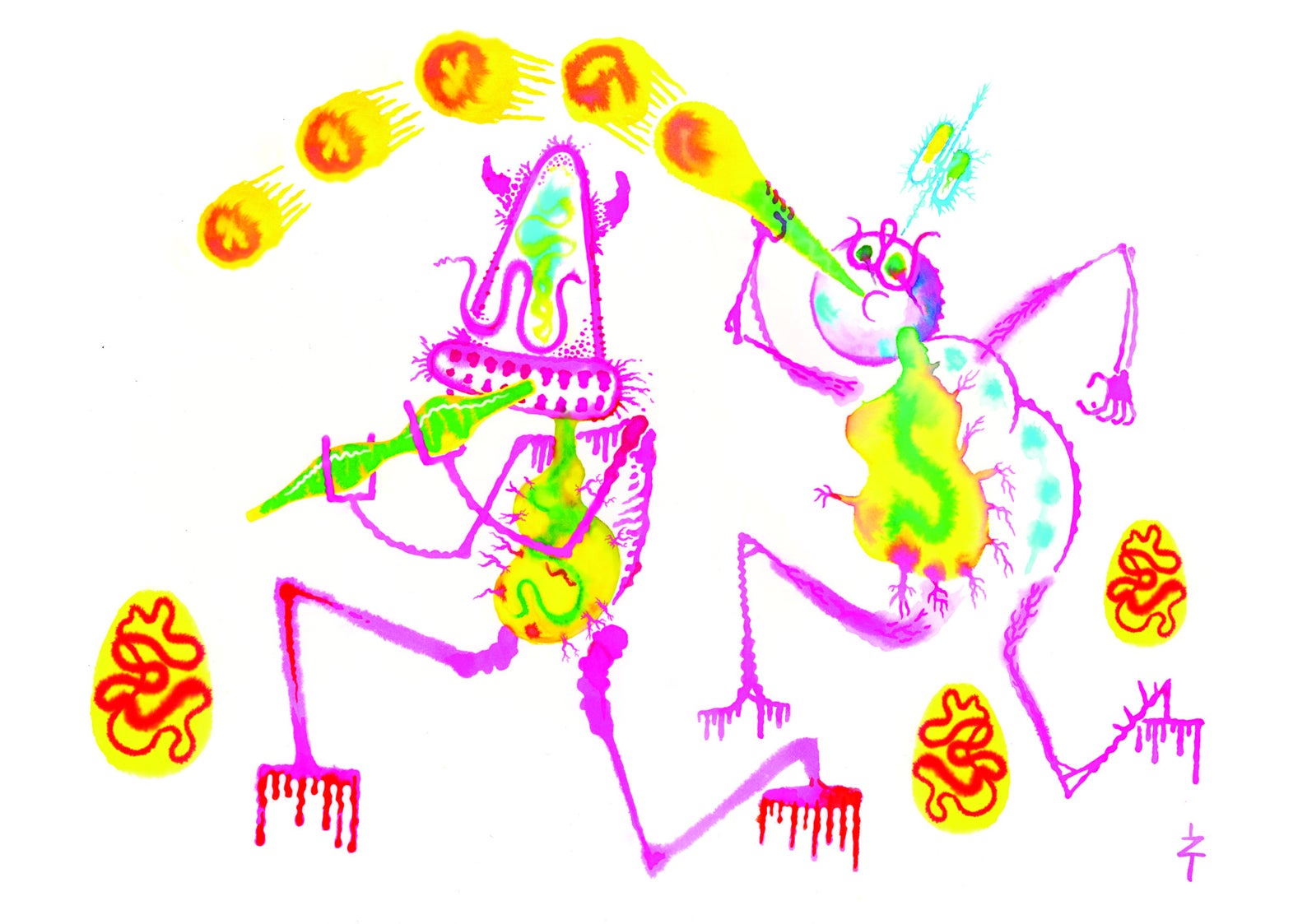 21/08/19

Was delighted to see this manifestation of Toni from proto murk #3 by the wonderful artist Gene Mutation.

16/08/19
New album out from Shackleton fairly soon via Boomkat.
The cover is a gatefold, the outer image is seen in this preview:

16/05/18
Painting that's not too far from completion, just needs a few more bits outlining:
16/05/18
The Thing - a short story of Aspergers
' The Thing is a simple story poetically told by a loving mother of a 7 year old boy with High Functioning Aspergers. Written to fill the hole she had found in this very niche market, her book doesn't teach you how to change your child. It doesn't teach the child the nature of their condition and how to survive or mask it. It isn't about fixing anything at all...merely supporting your child to accept it and in some way embrace it as an indelible but increasingly inconsequential part of who they are. '
Written and designed by Rachel Jackson and illustrated by me, below are a few sample pages:
Page 5:
Page 10:
Page 13:
Page 20: